…a paradigm shift in the aviation and trans-oceanic freight industry
SkyFreighter has the ability to transport most any product almost anywhere on the planet safely and quickly and most importantly, at very low cost.
This will eliminate the need for manufacturers to design and build large industrial equipment in pieces small enough to be transported over roads, etc., thus further reducing costs to the equipment manufacturer and ultimately their customers.
Environmentally responsible
Let us do the heavy lifting
Millennium AirShip (MAS) recognizes that the world requires a revolutionary hybrid heavy lift airship to fulfill varied 21st Century mission requirements. These requirements result in the need for an air vehicle that can provide heavy lift global reach transport of varying weights, sizes and volume.
20 ton - or - 500 ton
MAS will start with a 20 ton lift vehicle and will base the production of larger air vehicles on future demands; however we have already been queried on a 500 ton lift vehicle. Once the 20 ton vehicle is designed and in initial testing a decision will be made on when to build the larger sizes, based on customer demand.
Meeting demands
The heavy lift SkyFreighter will be available in (3) three payload sizes to fit various mission profiles, from smaller carriers to get to tight locations, to larger aircraft designed for long distance cargo carrying. The main advantages are the ability to land on any terrain, including water, where conventional aircraft cannot go, or even conventional land vehicles.
Solutions
Global access point-to-point on land or water
Requires little to no infrastructure at reception
Minimizes intermodal cargo transfers
Eliminates overstock or backorders in supply chain
Creates closed loop information flow
Improves security start to finish
Reduces delivery costs and time required
Increases profit margins
Current Industry Problems:
Underdeveloped areas not accessible
Existing traffic systems overburdened
Supply chain requires multiple transfers
Intermediaries overstock in supply chain
Unsatisfactory information flow
Inadequate security at transfer points
Expensive and untimely delivery of goods
High cost of conducting business
Millennium Airship Skyfreighter
Unique Investment Opportunity
Millennium Airship Inc. has been quietly, but diligently, working on the development of its Heavy-Lift Hybrid Airship for several years.
As result, we have established a team of highly skilled and motivated professionals that comprise the foundation of this company.
This includes experts in Heavy-lift lighter than air technology, expert government and civilian vendor contract administrators and facilitators, and successful high level business leaders and organizations within the global freight logistics industry.
Millennium Airship Inc. offers an outstanding ROI opportunity to qualified investors with the drive and vision to "See The Future", and is prepared to provide a perfect return and exit strategy for those select individuals.
Now is the time to consider acquiring "first mover advantage" in what is now being called "the best investment opportunity since Amazon™.
Millennium Airship, Inc.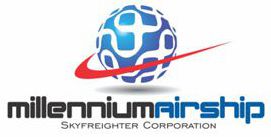 Bremerton National Airport
P.O. Box 1972
Belfair, WA
98528
USA
t: 1-360-674-2488
f: 1-360-674-2494
info@millenniumairship.com
www.millenniumairship.com
For Lease/Purchase Options and information on how you can pre-order SkyFreighter, Follow this link: